About Us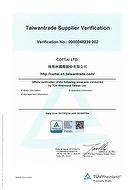 COTTAI LTD., based in southern Taiwan.
We're the supplier of window covering systems, components &equipment in Taiwan.
Serving the customer needs with a wide range of blind components.
We also have different kinds of curtain & blind fabrics.
Our high quality products are all made in Taiwan.

-ODM and OEM service, good at part design, tool making to the production of final product.
-Vary price competitive in the market, helping you to be more profitable.
-24hrs customer service.
-Quantity negotiable and prompt delivery.





Somos una empresa proveedora de muchos tipos de productos de cortinas en Taiwán.
Dentro de nuestro productos tenemos persianas, venecianas, verticales, horizontales, romanas, enrollables, tipo zebra, cortinas simples, paneles, sistema Cassette, entre otros.
Además vendemos todo tipo de accesorios como volteadores, borlas, barras de control, contrapesos, cordón, cadenas, entre otros.
También tenemos para ofrecer telas de polyester, de fibra de vidrio o de PVC y máquinas para cortar telas, tubos, etc.
Todos los productos son fabricados en Taiwán con un alto nivel de calidad.